For years my messenger bag was my laptop bag, an old, well used, MSI bag which had come with a laptop I purchased in 2007. Then a friend gave me a Chivas Regal promotional messenger bag while helping him move, it was the right size to fit all the things I wanted and it looked pretty good. Jump forward three years and it has accompanied me to many job interviews, countless meetings and a few overseas trips, I have used it so much, more than I ever expected, it started to fall apart. It felt like I was starting to lose an old friend.
I wanted something to replace my messenger bag, my man bag, my satchel, whatever you want to call it. It had to not look like a laptop bag but hold a laptop with gear, be compact, durable and suit my style. Mostly I wanted it to be durable and not looking like a laptop bag.
Enter Combat Flip Flops, I first learnt about Combat Flip Flops while drinking my morning coffee reading Gizmodo articles, trying to talk myself into work for the day. The article explains how two ex-US Army Rangers are helping war-torn countries by setting up factories and giving the locals real jobs, not fighting jobs. Their motto is, 'Business, not bullets', a cause that I support. You can read more about their mission here.
After reading the article and browsing their website, I found something that caught my eye, the Combat Flip Flops Claymore Bag. A bag designed from an M7 bandoleer, the bag that carries an M18 Claymore mine.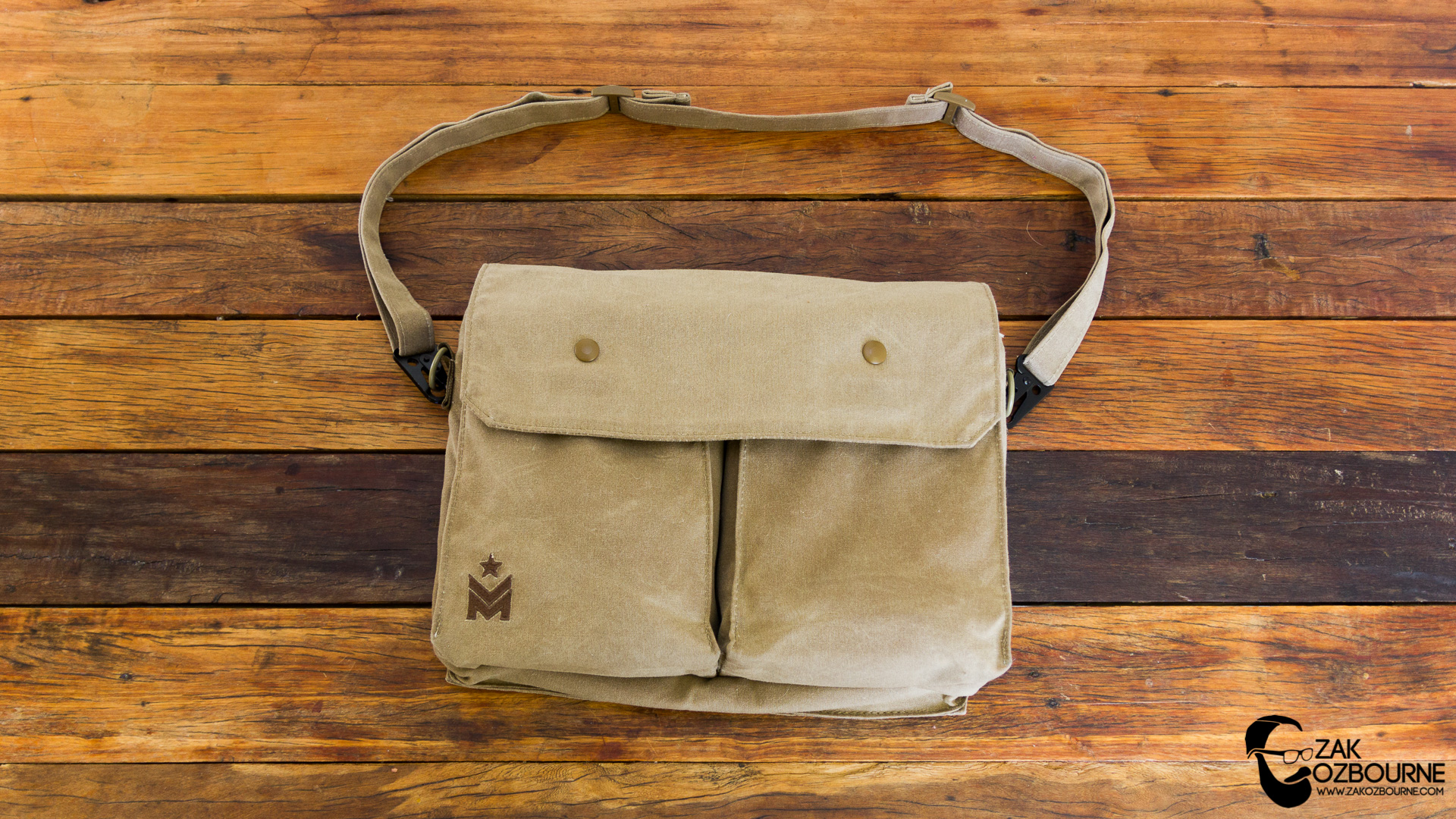 I liked the look of the bag and I liked their cause, so I thought I would try something new and give it a go. I ordered a fully optioned Waxed Canvas Claymore bag, this included the Magnetic Retrofit Closure and an iPad Mini holder. I also got a pair of Mens AK-47 thongs (Review Here) and some Stickers because, why not. All of this expressed shipped to Australia.
Shipping took 6 days from placing the order to having it in my hands in Australia. All the products were securely packaged and survived the trip from the USA very well.
Rather than giving you just my first thoughts without spending much time with the Claymore Bag, I plan to write about it a few times, my initial thoughts, after I've used it for a short while and lastly after long-term use. This way I can really talk about how it handles life in the real world.
Instantly unpacking the Claymore I could feel it was made of quality. I chose the Waxed Canvas as I thought it would be harder wearing than the Ripstop Nylon and this was something I was after.
The Claymore comes standard with a Smartphone Holder and a Sunglasses Pouch. None of the accessories comes in the same waxed canvas material, instead my phone holder and iPad holders are Black and my Sunglasses pouch Coyote Brown.
I immediately started fitting it out in various options, deciding what pouch goes where, moving items from my existing bag to the Claymore. My early thoughts were that ii was small, smaller than I wanted it to be, but after a few moments of using it I realised that this bag holds a lot more than you would expect and the option to customise the layout was great.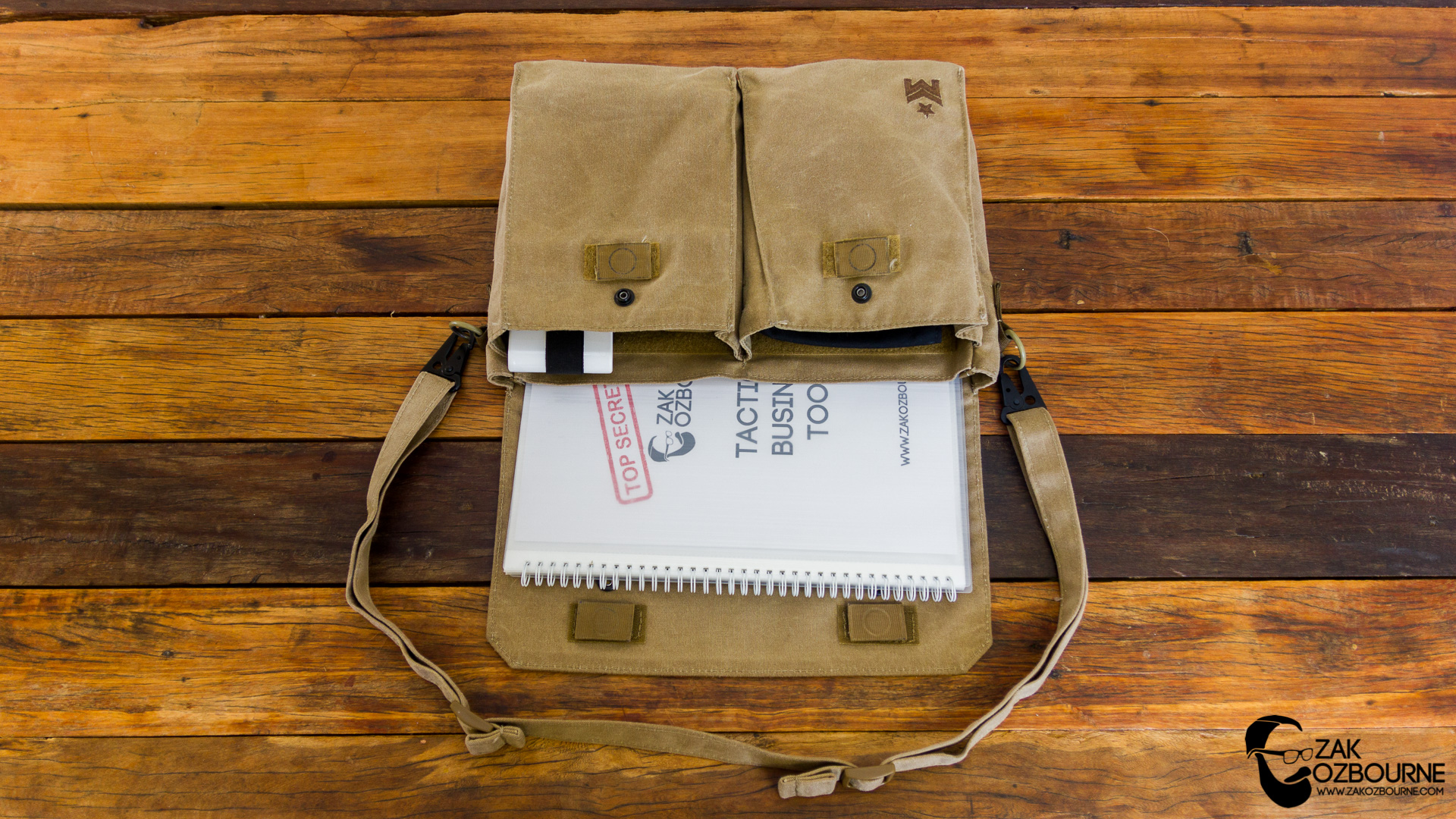 The main pocket is 33cm x 24cm x 5cm and it fitted with Modular Lightweight Load-carrying Equipment (MOLLE) Webbing, this is a system used by many tactical and defence equipment manufacturers. The front pockets are 16.5cm x 23cm x 5cm and are lined with soft Velcro on one side, the accessories have the rough Velcro, this is how you get them to stay in place. The front pockets also have 5 elastic loops sewn in each for items like pens, torches, knives and Moustache Wax. All the pockets are closed by a single flap secured shut by press buttons and Velcro tabs.
The strap/band/sling is 2.5cm wide, made of the same Waxed Canvas material as the rest of the bag, folded over and stitched through twice. There is a heavy duty Conventional Latch Attachment Snap Hook (CLASH) at each end hooked to some metal D links that are stitched to the sides of the bag. The strap is adjustable at both ends giving you many ways to configure the length. I am a relatively tall person (185cm) and I have the strap pretty well maxed out to have the bag sitting on my hip when I sling it across my chest.
The configuration I decided to go with was to have the Sunglasses holder in the right pouch and the iPad Mini holder in the left. In the right pouch, I am also keeping a 30,000 Mah Power Brick (Portable Charger) and a USB cable so I can charge my phone where ever I am and while I am on the move.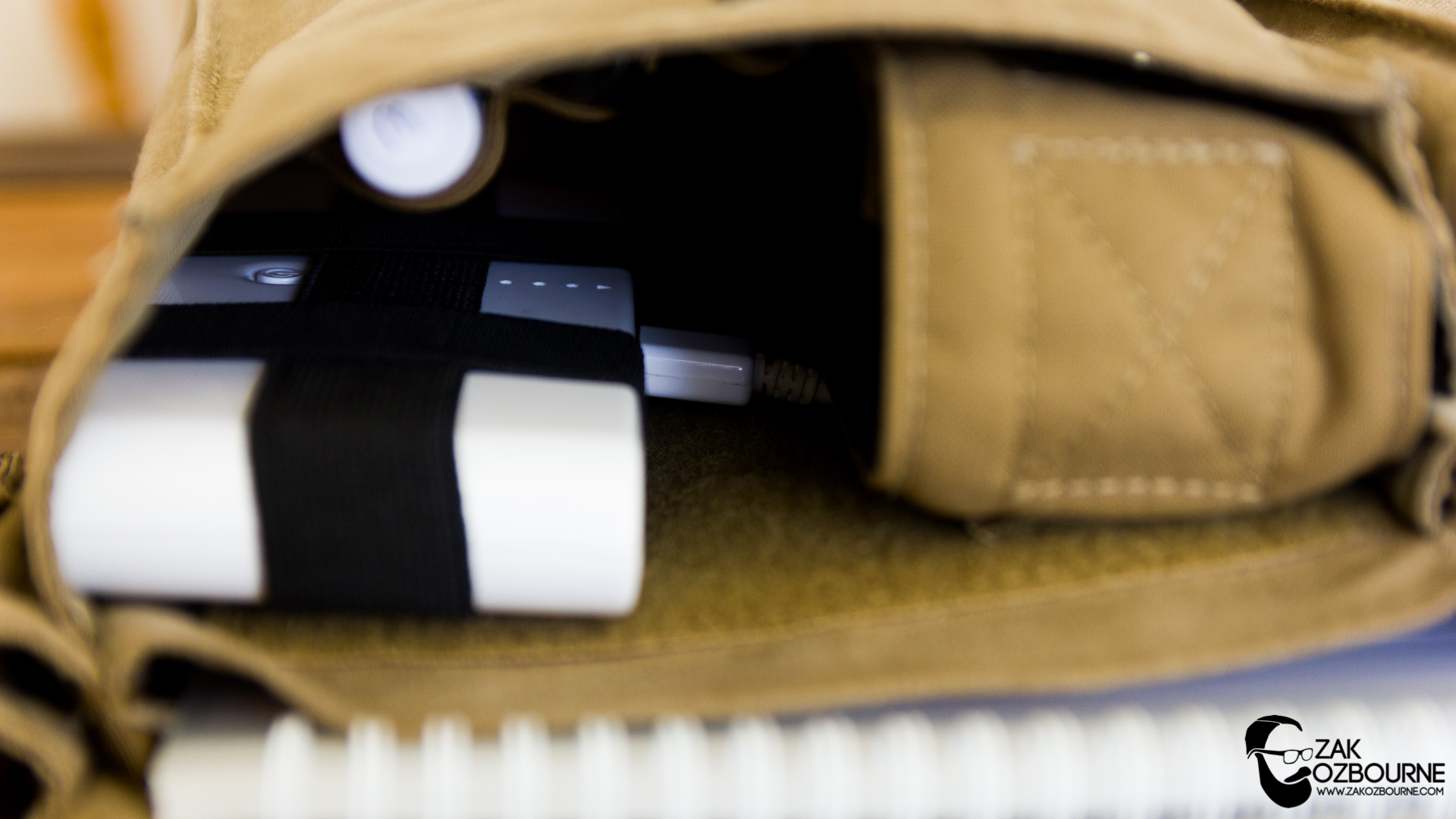 I made up an elastic harness with velcro on the back to keep my Power Brick in place.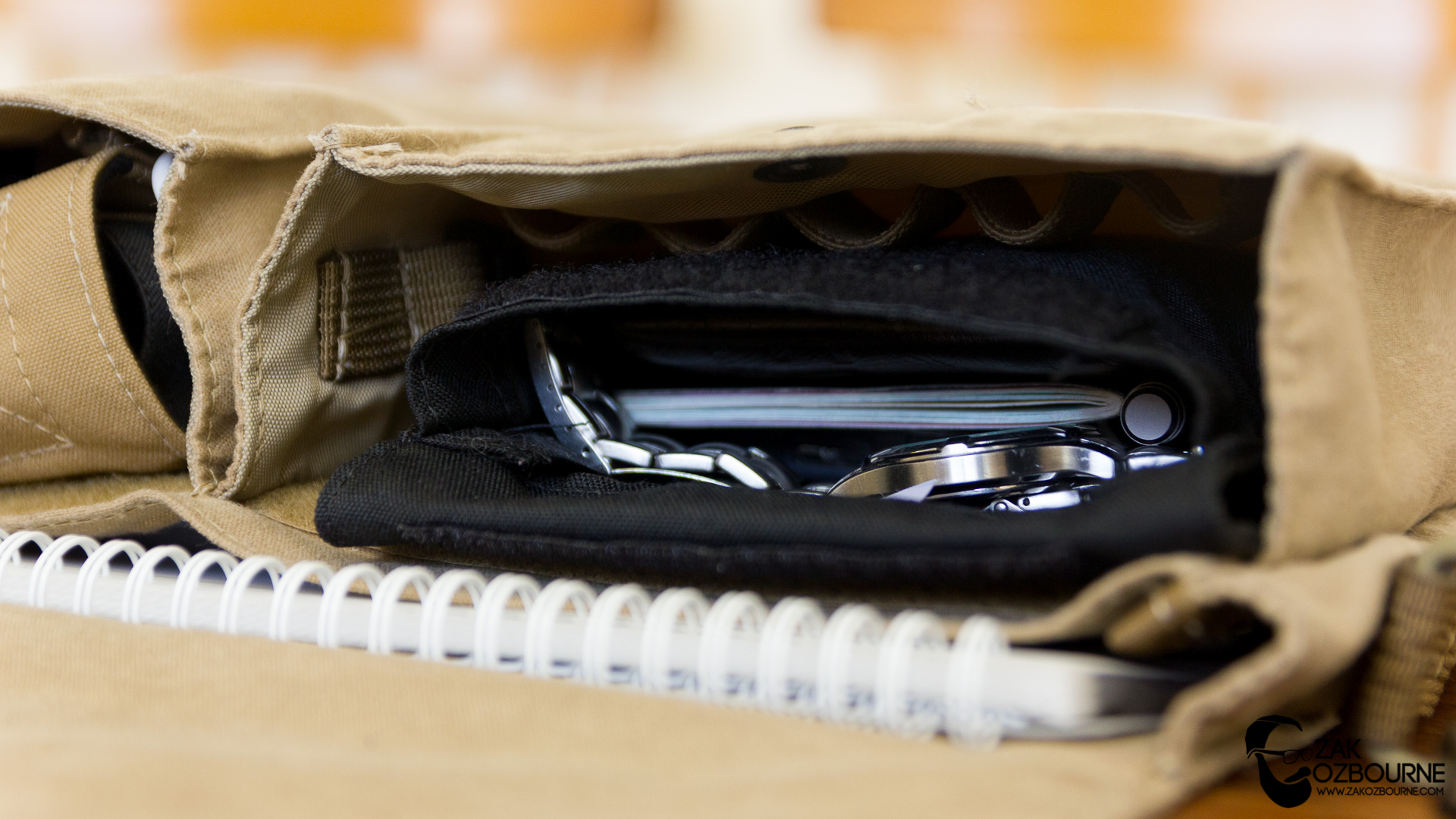 Important items in a slightly more secure pouch to avoid falling out.
I do not actually have an iPad mini, but I thought an extra pouch of that size could be useful for another Tablet or e-Reader of some sort. I like the idea of having a pocket inside a pocket, it gives me that extra sense of security so that I can put smaller, more important items (Phone, Watch, Wallet, Passport) in there and know there's less of a chance of them falling out
The Smart Phone pouch, while very well made, won't fit my Samsung Galaxy S5 when it is in the Spigen Tough Armour Case (it's a tight fit even with the case off). To me, it makes no sense to take it out of its case to get it to fit in, so for now the Smartphone holder stays at home until I can find a use for it.
The elastic loops are a too loose to hold pens without the pocket clip, you really want to put something of around 1.5cm or a bit larger in there to get it to stay without a clip. I currently have two pens, one stylus for my phone and a tube of Moustache Wax.
I am glad I got the Magnetic retrofit, which is a pair of hook and loop Velcro tabs that have magnets sewn into them. They stick onto the existing Velcro to make it quieter and easier to open and close. The big benefit I find from them is when the flap falls closed, the magnets line themselves up leaving the buttons aligned perfectly and make it easier and faster to add that extra layer of security to your gear.
After using the bag for only a few days, I am already becoming attached to it. Not only is it hard wearing and adaptable but it looks good and is comfortable to wear for long periods of time.

My standard loadout: Clockwise from top left – Apple iPad, Claymore Sunglasses Pouch, My Sunglasses, Claymore iPad Mini Holder, My Passport, Western Digital 1TB Portable Hard Drive, Charge and Sync Cables, 2x Stylises, 2x Pens, 1x Black Sharpie, Skull Inc. Moustache Wax, Watch, Wallet, Binder Folder with work Documents and blank paper, Ear Phones and Case, USB Power Adapter, Stack of Business Cards, Spare Glasses and Microfibre Cloth, Glasses Case, Samsung Galaxy S5 and my 30,000Mah Power Brick.
I look forward to using this bag every day professionally and personally. Come back in a bit to see my thoughts on this after I have used it for a little while as well to see how it performs as a laptop bag.